Stop Overpaying On Your Medications!!!
---
You Could Be Overpaying On Your Medications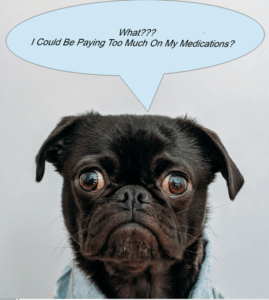 Regardless if you have insurance or not, you could be overpaying for your medications. Also, there are many prescription medications that just are not covered by insurance.
How can you be sure that you are getting the best price? It could be as simple as using a premium prescription drug discounting card (and App). Its that simple.
---
This Is A Discounting Card Not Insurance.
This is a tool to help you get the biggest bang for your buck. This isn't part of an insurance plan, but can help you save money regardless if you do have insurance or not.
Got prescription drug coverage?
No problem! You can simply look and see if your co-pay is less than that discounted price. If the co-pay is lower then use your insurance, if not (and this can happen more often then you realize) then use the discount coupon and save some money!!
You just can't combine the two, either use the insurance with your co-pay or use the discounted price to save money. Many more commonly prescribed medications can be less than than the $10, $15 or $20 co-pays. What if you have a $15 co-pay and the medications discounted price is $6.00?
Don't have prescription drug coverage?
Then you definitely want to to have this to make sure you avoid paying more than you need to. Look up the price. See what the prices are at pharmacies in your area. Find your best price – Boom – Save Money.
Are you a Medicare Beneficiary and have a prescription drug plan?
Same thing applies.
Always keep this in your toolbox – just remember that you cannot combine them. Either use the insurance or the discounting program.
A nifty app make pricing your medications easy!
Just download the app and begin saving now.
You Can Even Save Money On Your Pets Medications Too!
The program can apparently be used to get additional savings on medications for you pets, cool right?
Prefer to Use A Physical Discount Card?
You can print them online or just request one by contacting me. Please note that physical discounting card is specifically designed to work with large Big Box Pharmacies such as CVS, Target, Longs Drugs, Walmart, Kroger, Harris Teeter, Walgreens, and Duane Reade.
For extended access the thousands more pharmacies download the app.
How Much Does It Cost?
Its Free!
Wait Its Really Free?
Yes, Its Free!
Can We Have One More Heading Saying Its Free Because We Like Things That Are Free!
Sure why not! 🙂
---