Medicare Advantage HMO VS PPO
---
With so many Medicare Advantage plans to choose from, 39 on average in 2022, it's important for Medicare beneficiaries to be educated on the differences between the two most popular plan options, HMOs and PPOs. This presentation goes through the main differences between the plans without digging into plan specific benefits.
Medicare Advantage Plan Types
---
There are five types of Medicare Advantage plans, including:
• HMO – Health Maintenance Organization
• PPO – Preferred Provider Organization
• PFFS – Private Fee for Service
• MSA – Medicare Savings Account
• Cost Plans
HMOs and PPOs account for 99% of all MA enrollment, with the remaining 1% made up of PFFS, MSA and Cost Plans.
---
What Are HMOs and PPO?
In general, HMO plans provide the best quality care at the lowest cost by utilizing a specific network of doctors and hospitals. These plans are designed to keep costs low to both the member and the Medicare program while providing high quality care.
PPO plans are more about flexibility. They provide members to utilize a network of providers to receive care for the lowest out of pocket cost, but also allow more freedom for beneficiaries to seek care outside of the network, but for a higher copay/coinsurance.
Service Area – HMOs
---
HMO plans are generally offered in counties in and around major metro or urban areas, or specific areas that may be covered by one or more larger healthcare systems. The image slide below shows which areas are considered metropolitan across the country, areas where HMO plans are most common.
---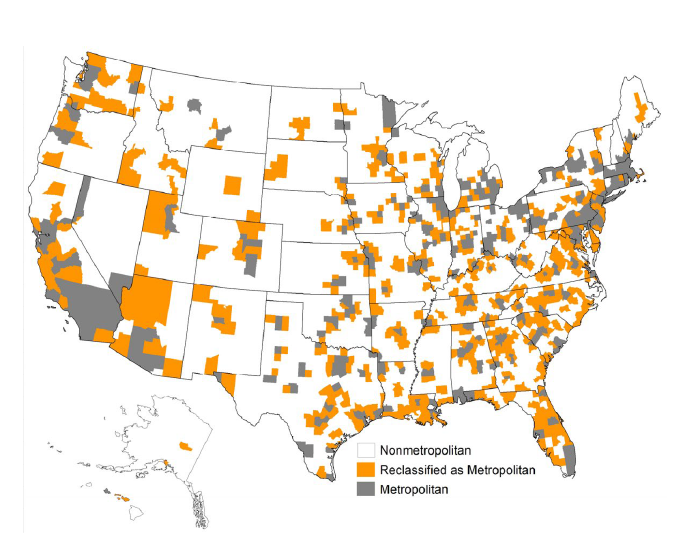 ---
Service Area – PPO
---
PPOs can be offered in the same areas as HMO plans, but also expand to more rural areas and can even be offered statewide. The image slide below shows the number of Medicare Advantage plans offered by county in 2021. As you can see, the major metro areas have a higher concentration of plans offered compared to the rural counties. As you can see, there are 82 rural counties across the country that do not have any Medicare Advantage plans available.
---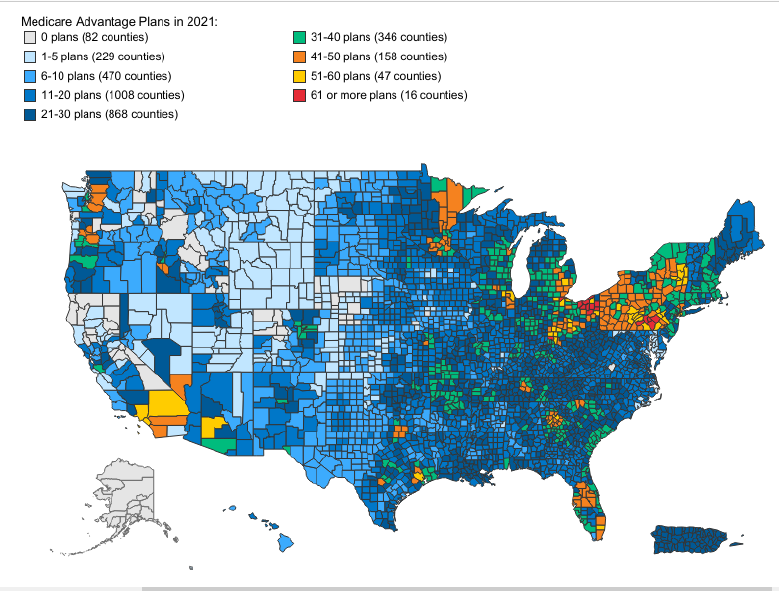 ---
Network Access – HMO
By design, HMO plans require members to utilize contracted, in-network providers in order for the plan to cover any of their care. HMO members can go out of the network for emergency or urgently needed services (emergency care is covered worldwide).
If the beneficiary needs medical care that cannot be completed by an in-network provider, they can ask the plan to approve their care outside of the network for that particular treatment/surgery, etc. The approval must be granted from the plan prior to receiving care at an out-of-network provider.
Some HMO plans also offer a Point of Service (POS) benefit. This allows members to go outside of the HMO network for specific services only. The plan's Summary of Benefits will clearly indicate which services are covered by the POS benefit, and what the client's copay or coinsurance will be.
Network Access – PPO
---
PPOs offer both in-network and out-of-network benefits on their plans. In order for a member to receive care at the lowest out of pocket cost, they are encouraged to utilize in-network providers. Members can receive care outside of the network for any and all services, and may pay a higher copay or coinsurance. If the member wants to access care outside of the PPO network, they need to verify the provider accepts Medicare and agrees to bill the plan.
Premiums
---
While premiums can vary widely for Medicare Advantage plans, with some plans even offered with $0 monthly premium, the average premiums in 2021 for HMO plans was just $18. For PPOs, local plans had an average of a $25 premium, where statewide PPOs average $48 per month.
Maximum Out-of-Pocket
---
Each Medicare Advantage plan has a maximum out-of-pocket (MOOP). The average MOOP for HMO plans in 2021 was just $4,566, where the PPO plans averaged $5,873 for in-network services and $9,206 for out-of-network services.
Things to Consider
---
With the abundance of plan options available across the country, it's important to have a good understanding of how HMOs and PPOs work before making a decision. HMOs are mostly going to be available in most major metro and urban areas, require members to utilize a network of providers, but also offer some of the lowest premium and cost sharing. PPO plans are a great fit for individuals looking for some flexibility in who they can see for their care, but members can expect to pay more in premium and out-of-pocket
---
Sources:
https://www.kff.org/medicare/issue-brief/medicare-advantage-in-2021-premiums-cost-sharing-out-of-pocket-limits-and-supplemental-benefits/
https://carsey.unh.edu/publication/rural-america-failing-or-succeeding

https://www.kff.org/medicare/issue-brief/medicare-advantage-2021-spotlight-first-look/
---
Got Questions?